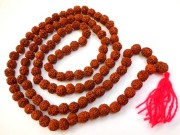 By wearing " Genitri – Rudraksha Power Rosary ", it will get a lot of benefits, to improve the overall quality aspect of life and health. Improving the living spirit / passion, as mental health therapy, peace of mind, success in relationships, improve concentration in meditation, a special ritual, which is important to change the personality and mindset to positive. The strength of electro magnetic of genuine genitri – rudraksha beads to functioning blood circulation and increasing radiance aura as an appeal of charm, existing on the " Genitri – Rudraksha Power Rosary ". Some of our clients has proven efficacy, which has some aspects of magical powers, gifts of divine, much of the literature that supports this assertion is contained in a range, the sacred books of India and the ancient Buddhist, Kejawenese, Etc. Its has been empowered specifically. Our clients from several countries, its wearing genitri –  rudraksha power rosary of Indonesia, for various purposes.
The description of item as below :
*  It's been specifically empowered.
*  Its practical, real natural power and ready to wear.
*  Guidance : Instruction manual paper for user.
*  This item is limited stock.
*  Free Shipping by Pos Ekspor.
Sku

Rosaries - 0001 JTS

Description

Genitri - Rudraksha Power Rosary JTS - 0001

Product Options

| # | Option | Price |
| --- | --- | --- |
| 1 | Genitri - Rudraksha Power Rosary JTS - 0001 | $175.00 |

Shipping

Shipping Rate: